Bare Yogis' School of Yoga is led by Billy Barefoot Yogi and Padma Dharmata, who have both been teaching and training for almost 10 years! Billy and Padma have led numerous small-group teacher trainings, and have collectively trained over 85 exceptional yoga instructors, and counting! The goal of Bare Yogis' trainings is not to just *get certified*, but our goal is to help unlock your greatest potential as a yoga instructor, and to be able to connect with the heart of yoga! The student will graduate, not just by hours and attendance alone, but also through competence, integrity, and harnessing their yoga as a way of life! This training has the capability of becoming a transformational experience for the student.
With our Online Training Program:
You can

train on your OWN schedule

! There are no schedules to adhere to, and this is the number one questions we receive from students interested in our online programs. You create your own schedule!

There are no start dates---

begin when you're ready

! You can start today, next week, or next month!

There are no deadlines

! If you'd like to train in a month, you can do that! If you'd like to train in a year, you can do that! Every student has a different learning style, capacity, and availability, and we are here to help you meet your goals, around YOUR schedule!

Our training system is extremely user-friendly

! If you've landed on this page already, then you have the ability to easily navigate our training material. We believe in being as user-friendly and understandable as possible, and our online yoga teacher training is no exception!

Our training material is a blend of

engaging

videos, text, reading assignments, written assignments, physical practice, and more. Our philosophy is to be as engaging as possible, as this will be how you will

truly learn

.

You are not alone in this training. If you are an independent personality, you are welcome to train as independently as you like! However, we want all of our students to know that we are here at any time to assist you with your training, or for additional one-on-one training time. Every student will receive the trainers' personal contact information, in order to be able to reach out any time. You will have regular contact with the instructors of the training!
This training and certification will give you purpose. We all have moments in life of feeling stuck, or feeling that we're not contributing very much to the well-being and development of society or humans, in general. Perhaps this certification is not your end-goal, but is a step along the way. As a certified yoga instructor, you will be able to provide valuable yoga instruction to the people in your life. Yoga, as a physical practice provides relief for various aches and pains, medical conditions, stress, and more, as well as bringing vitality to our bodies and builds strength and flexibility! As a mental practice, yoga helps greatly with stress, anxiety, depression, self-abuse, abuse from others, addiction, recovery, trauma, PTSD, and more. As a spiritual practice, yoga can help us to connect to our inner source, or our higher power---to truly understand who we are. The possibilities are endless, but after seeing the positive transformations in over 18,000 students' lives throughout our teaching careers, we recognize how powerful and impacting yoga is for every person, whether they initially realize it or not, and this all begins with an individual training as a yoga teacher and gaining the skills to bring yoga to the people.
This 200-hour yoga teacher training will guide you to finding the in-depth knowledge necessary to become an adaptive and welcoming instructor, engaging and connecting students of all backgrounds and beliefs to their own yoga practice! Not interested in teaching? Many students over the years have utilized our trainings to deepen their personal practice and increase their knowledge about yoga, even with no intent of ever teaching a class! We are registered as a yoga school with Yoga Alliance, though all of our trainings go above and beyond Yoga Alliance guidelines, as we want our trainees to be the very best, and to have the capability to impact lives through yoga! Our yoga training will prepare the student to teach yoga postures and philosophy, in a motivating and genuine style, and will help to unlock your greatest potential, in what your teaching style is meant to be (that's a little different for every person). The student will also graduate with teaching experience (unlike many trainings), as much of our training revolves around practice, practice, practice! Once the student graduates, they will feel confident and prepared to begin their teaching journey!
​
Along with a 200-Hour Yoga Teaching Certification, enrolled students will also receive a 6-month membership to our online yoga studio, so as to encourage regular yoga practice! There are certain materials and books that are required throughout the training, which are listed below.
Contact [email protected] for further information as needed, or to receive a syllabus, or visit bareyogis.com/teachertraining!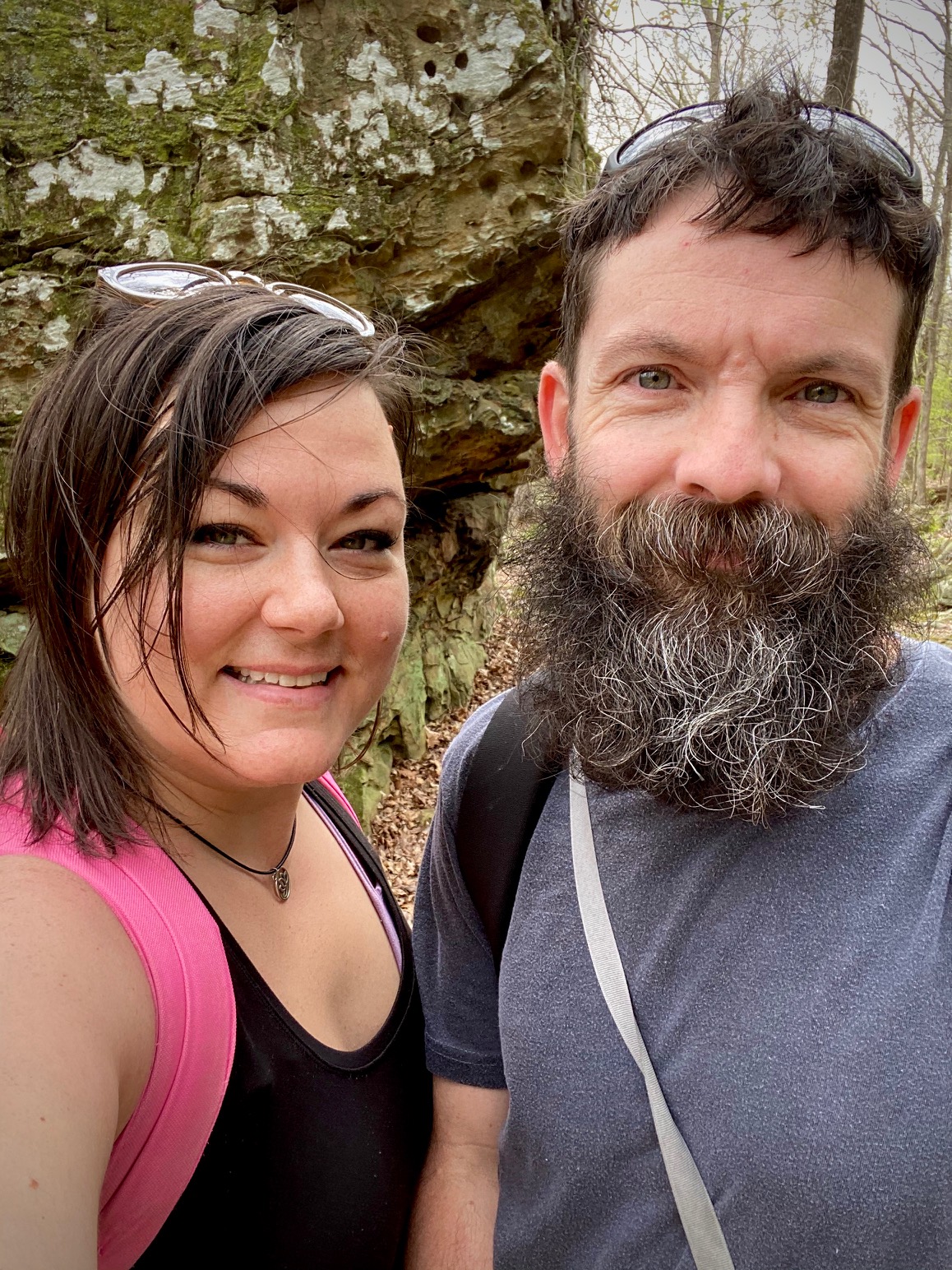 Billy Barefoot Yogi and Padma Dharmata will be your guides throughout this training!
Billy comes from a military family, and grew up experiencing an overwhelming amount of anxiety, but also many profound spiritual experiences, that culminated a unique history for him to find a way to transform his past into a useful tool to be able to help others through yoga, meditation, and self-inquiry. It was through a lengthy spiritual quest that led him to meditation, in which he began to work through his former anxiety. His meditation practice led him to teach others, who needed the same inner transformation, which then led him into a physical yoga practice, which began to heal and transform his body and mind even further. Inevitably, these experiences led him to become a yoga teacher, and to combine the spiritual, mental, and physical benefits of yoga into one holistic practice and teaching. Billy has been teaching meditation since 2004, and yoga since 2011.
It is through his yoga career, at his first hot yoga studio that he met Padma Dharmata (who has now been teaching yoga since 2012), and the two joined forces to take the truest and simplest form of yoga to the world.
Learn more about Billy and Padma at bareyogis.com.
Our RYT-200 training topics include, but certainly are not limited to:
In-Depth Knowledge of Physical Yoga Postures

Posture Modifications

Non-Physical Yoga

Various Styles of Yoga (Hatha, Vinyasa, Yin, Etc.)

Sanskrit Words and Classical Names of Postures

How to Teach Safe, Effective, and Motivating Classes

How to Safely Teach Classes to Large and Small Audiences

Pranayama Breathing and Meditation

How Our Life is Affected by the Breath and Thought

The Psychology of Yoga & Hot Yoga

The Effects of Music on Yoga

How to Safely and Properly Operate a Heated Class

Teaching Techniques and How to Utilize Your Own Personality

The Business Side of Yoga

Yoga Anatomy and Physiology

Alignment and Adjustments

"Proper Alignment" and Why It Doesn't Work

Verbal Alignment and Verbal Adjustments

How to Utilize Different Learning Styles (Spatial, Aural, and Kinesthetic)

How to Adapt Yoga to Fit Every Body (including Injuries and Medical Conditions)

Utilizing Props in Yoga (Blocks, Straps, Mats, Chairs, and More)

Ethics and Morals in Yoga

Energy Anatomy and Physiology (and How Energy Affects Everything)

Yoga Philosophy and Lifestyles

The History of Yoga, Branches, and Lineages (including our yoga lineage)

Practicum (Practice Teaching and Physical Practice)

Assisting and Co-Teaching

and so much more!
​
This training also provides the student with an elective segment of training, on top of our extended array of topics, and may choose to train additionally in one of these areas:
​
Yin / Restorative Yoga

Prenatal / Postnatal Yoga

Faith-Based Yoga

Chakras & Energy

PTSD & Trauma-Informed Yoga

Advanced & Classical Yoga
​
Our online yoga teacher training does not have a set schedule that must be adhered to---we have set this program up so that the student trains at their own pace! However, the student is not alone, and will have plenty of opportunity to interact with the instructors and with other students going through the program.
​
Payment Options:​
We understand that everybody has a different financial ability, and in a continued effort to ensure that our yoga and trainings are accessible to all people, we want to keep our prices affordable and flexible. For this training, we have a few different payment options:
Full Payment Option. One-time payment of $1000! **Use code BAREYOGI40 to save 40% by paying in full! Only $600!**
Three-Month Payment Option. Three monthly payments of $400
Six-Month Payment Option. Six monthly payments of $200
Twelve-Month Payment Option. Twelve monthly payments of $100
Regardless of which option you choose, you will have access to your training right away, with your initial payment!​ (Payment plans must be paid in full in order to receive certification.)
How to get started:
Select your payment plan option below. You may choose to pay in full, or select a payment plan.

Submit your initial payment, and you'll receive instant access to our training program!
You may begin training right away, though you'll want to go ahead and order your training materials and books (listed below).
Within 24 hours, you'll receive a Welcome email from our staff, along with your 6-month membership to our online yoga studio, a personalized upload link (for future assignments), and any other information you may need.
Be sure to add "[email protected]" and "[email protected]" to your email contacts, to ensure you receive our emails in regards to the training!
​
As simple as that! Click "Sign Up Now!" to get started!
Bare Yogis yoga school and online studio does not discriminate based on any quality of race, color, gender, gender expression, sexual orientation, identification, body type, shape or size, fitness level, age, religious or faith beliefs or backgrounds, national origin, marital status, disability, military status, professionalism or education, or even experience or knowledge of yoga in any of its activities or operations. 
MATERIALS REQUIRED FOR THIS TRAINING
​
​
MATERIALS AND ACCESSORIES
​
Yoga Mat
Yoga Strap
Yoga Blocks (2)
Journal
Notebook
Writing Utensils
​
REQUIRED READING MATERIAL
HATHA YOGA ILLUSTRATED - Kirk, Boon, DiTuro
YOGA MIND AND BODY - Sivananda Yoga Vedanta Center
YOGA FOR EVERYONE - Dianne Bondy
SCIENCE OF YOGA - Ann Swanson
BIKRAM YOGA - Bikram Choudhury
CHAKRA WORKBOOK - Pauline Wills
AUTOBIOGRAPHY OF A YOGI - Paramahansa Yogananda *
BIOLOGY OF BELIEF - Bruce Lipton *
THE POWER OF NOW - Eckhart Tolle *
*Denotes that these three (3) books can be utilized as audio or digital books, if preferred.
​
ELECTIVE / OPTIONAL BOOKS
(During the training, the student will select an elective topic from the list below, which will require the listed book for the elective. If multiple books are listed, the student may select which book is preferred. Each student will choose one elective of their own choice, and ARE NOT required to have these materials right away. The elective portion will be introduced during the training, and the student will have time to consider their elective choice. However, the student is welcome to order the necessary materials as they are ready!)
PRENATAL / POSTNATAL YOGA
(This material is changing and will be announced soon.)
YIN / RESTORATIVE YOGA
THE COMPLETE GUIDE TO YIN YOGA - Bernie Clark
FAITH-BASED YOGA
THE YOGA OF JESUS - Paramahansa Yogananda
CHAKRAS & ENERGY
WHEELS OF LIFE - Anodea Judith
PTSD AND TRAUMA-INFORMED YOGA
THE BODY KEEPS THE SCORE - Bessel Van Der Kolk
ADVANCED & CLASSICAL YOGA
LIGHT ON YOGA - B. K. S. Iyengar